All our staff and owners are fully trained, insured and dsb checked. We are trusted by all our clients which is super important to us.
Every animal in our care will be 100% cared for and loved and we guarantee that you will want to use us again.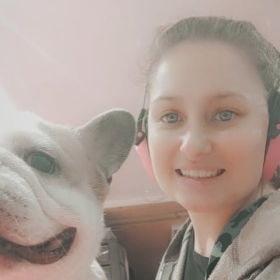 Gaby is a fully trained dog groomer with city & guilds she has been grooming since she was 18. She has built up our client base in the grooming van and enjoys every part of grooming. She also fills in with dog walking & Boarding from time to time! She has been to college and has gained her level 3 animal management so she has knowledge in all animals from snakes to horses.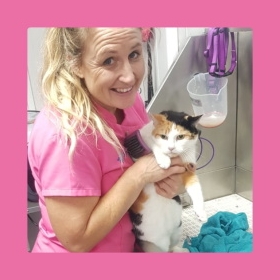 Katrina is joint owner with Gaby and also works in the grooming van a couple of days a week, she helps assist with bathing, styling the dogs/cats that come into the van. Katrina is the front face of the dog boarding/day care side of the business she has a love for all animals and is very knowledgeable about all animals.
Both Gaby & Katrina are fully trained microchippers and pet first aiders!
Our Wonderful Team
SEASONED AND SKILLED STAFF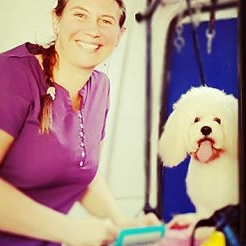 Cherie works in the grooming van assisting with all aspects of the groom, she speaks to clients on a daily basis and knows alot about breeds, feeding and grooming. She has also helped build our client base.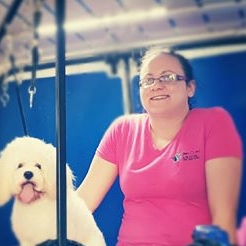 Amy is a fully trained dog groomer, she has currently taken over the grooming van while Gaby is on Maternity leave, she grooms dogs to a high standard and also loves every part of the job! She loves and treats all animals that come into the van as her own and is a fully trusted member of the team. Amy will be continuing her job when Gaby comes back with an additional van or shop.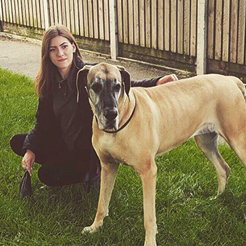 Chloe is our full time dog walker, she walks all the dogs on our books, she has been with us for 3 years and loves her job very much. She has 5 star reviews off all our clients and the pooches love her! She knows her job inside out and is very passionate about it.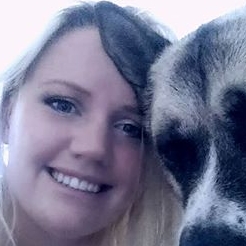 Sarah is our cover dog walker, she walks the pooches when Chloe is off. She has an animal care background, such as assisting dog groomers and caring for animals, she is very knowledgeable with all animals.